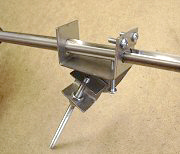 I don't like adjusting the gouge sharpening jig for each bowl gouge I use. So, here is the simple design for a sharpening jig that is so inexpensive, I can have one for each gouge I own.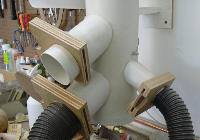 How I built my dust collection piping system with no purchased couplings or joints. Includes a free online software tool to create paper templates to join pipes.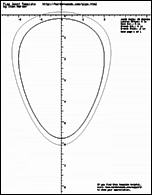 - Overview of the problem and my solution
- Step by Step procedure with photos
- Pipe Joint Template Online Software Try it yourself for free.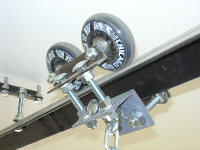 First intended to help hoist heavy logs onto the lathe, this home made hoist track is mostly used to move the tail stock out of my way with ease.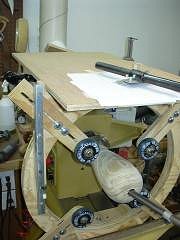 A template based boring bar hollowing system that is so much more versatile and easier to use than those difficult to use laser based systems.
View Template Based Boring System Description



---
The ideas and designs presented here are free for personal and non-profit use. Commercial licensing of any Harder Woods products can be negotiated by contacting Stan Harder.