Most woodturners visiting my shop are fascinated with my hoist track above the lathe. First intended to help hoist heavy logs onto the lathe, this home made hoist track is mostly used to move the tail stock out of my way with ease.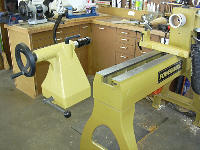 It is made from a heavy 8 foot piece of angle iron bolted to the rafters. The carriage is made with bolts some more angle iron and some wheels from inline skates. The hoist extends from the headstock of the lathe to just over the outfeed table of my table saw. When the tail stock is not in use for extended periods, I set it on the table to keep it out of the way. Otherwise flat spots form on the wheels from the weight of the tailstock.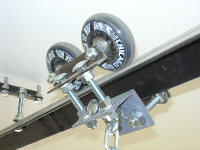 It is so easy to remove and replace the tailstock I can do it with one hand.